Browsing articles in "Basketball"
It was one of those games.
Shot after shot glanced off the rim. Even his signature move — the ever-reliable, sweeping left-handed layup — betrayed him.
But Stevie Thompson, though still in high school, is a veteran of tough games against talented opponents.
Held to six points in the first half in a recent game against a lineup that included a highly regarded junior guard, a 6-foot-11 center headed to Arizona State, and another player whose next stop will be UCLA, the wiry 6-4 guard never showed a hint of frustration.
Remaining confident and composed, Thompson exploded for 19 points in the final two quarters — and made seven of eight free throws in crunch time — as Torrance Bishop Montgomery High kept its record the next-best thing to perfect with a seven-point victory.
"I don't try to get too high or too low," Thompson explained afterward. "Try to keep it in the middle. When you're playing bad, staying even-keel keeps you calm and collected."
Stevie's voice, his father's mantra. Read more >>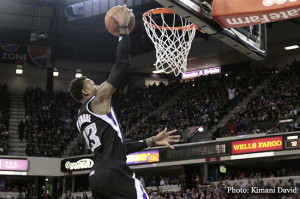 Just 21 years old, Ben McLemore sat in front of his locker after the Kings' 2013-14 regular-season finale, a loss to the Phoenix Suns. He answered reporters' questions about his 31-point, 5-assist, 5-rebound performance. He knew it, and they knew it: his performance that night was an outlier. Whether or not that sentiment was verbalized, there was no getting around the fact that the No. 7 overall pick's rookie season had been an utter disappointment, featuring no shortage of struggles on both sides of the ball.
The big question lingered – how would he respond to this setback, a season in which he shot 37.6 percent from the field (32.0 percent from deep) and struggled to defend his opponents on most nights?
While Kings head coach Michael Malone was supportive of his young shooting guard all season, management opted to spend its 2014 first-round pick on yet another shooting guard, University of Michigan sophomore Nik Stauskas.
According to McLemore, the team drafting another shooting guard motivated him to some extent, but he has always set high expectations for himself.
"It just pushed me to just keep getting better each and every day," McLemore told Cowbell Kingdom before the Kings took on the Toronto Raptors on Tuesday night. "Them drafting Nik Stauskas wasn't like 'Aw, man. Now I gotta step my game up.' That's the type of player I am. I'm gonna step my game up regardless and get better as a player. It's just another opportunity getting better going against another guy that's playing my position."
The moment the Suns game ended in mid-April, McLemore's offseason began. In college at the University of Kansas, as well as in Sacramento, he's been known as an incredibly hard worker, but there remained a level of uncertainty as to how exactly McLemore would translate his offseason training into a significantly better second season. Read more >>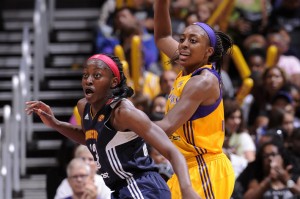 With Round 2 of the Ogwumike battle about to commence, Chiney Ogwumike confidently moved through the Connecticut Sun layup line, as her best friend and older sister, Nneka, stretched at midcourt. More important than a matchup of star siblings, it would be a game between two teams desperately fighting for playoff berths.
A few hours later, 22-year-old Chiney was finished carrying a young team on her back for 37-plus minutes. Despite the rookie's brilliance, especially in the second half where she scored 17 points, her inexperienced squad squandered a six-point lead with 29.8 seconds left, only to lose by a single point. The Connecticut Sun forward recorded her 13th double-double (23 points, 12 rebounds) of the season, good for third in the league, yet still came away unsatisfied.
"Ugh, I just want to punch her in the face right now," Chiney joked after the loss, referring to her sister Nneka.
She vented with a smile on her face, but wasn't able to hide an underlying sense of exasperation. Read more >>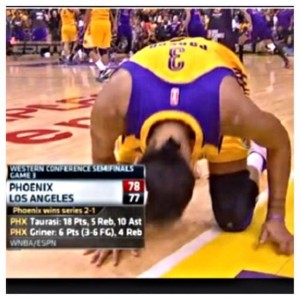 Last postseason ended in heartbreak, as Phoenix Mercury center Brittney Griner's late turnaround jumper over Candace Parker sent the Sparks into an early offseason. In a decisive Game 3, they had lost by a single point on their home court, losing the chance for a Western Conference Finals rematch with the Minnesota Lynx.
It represented the second straight year, in which the Sparks finished 24-10 but failed to emerge from the West and make the WNBA Finals. In 2012, the Lynx similarly eliminated the Sparks by one point at Staples Center.
"To me as a coach," said Sparks head coach Carol Ross, "I think heartbreakers are always the ones that stick with you the longest, and they have the greatest lessons to be learned."
In sports, as tough as the defeat(s) may be, typically you have a chance for redemption, a chance to grow from your past failures. Well, the LA Sparks almost didn't get that chance, at least in Los Angeles.
In December, Sparks owner Paula Madison notified the WNBA that her family could no longer afford to invest in the team. Thus, the WNBA took temporary control of the team. In the ensuing months, it became increasingly likely that the Los Angeles Sparks, one of four still-standing original WNBA franchises, would be bought by the Warriors' ownership group and moved to the Bay Area.
In early February, however, an investment group led by Lakers legend Magic Johnson and Mark Walter swooped in and saved the day. The team would be remaining in the City of Angels, where it would have more opportunities to compete for titles.
"Magic buys the office lunch all the time," said Sparks general manager Penny Toler, "and every time he's getting ready to say his prayer, he's always like, 'Penny, the team gotta win, the team gotta win.'" Read more >>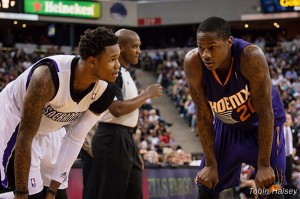 Selected after Kobe Bryant and immediately before Steve Nash in the 1996 NBA Draft, Peja Stojakovic spent two more seasons in Europe before making his Sacramento Kings debut. When he finally made his way stateside, the 6-foot-9 Serbian forward was just 20 and still had some growing up to do both on and off the court.
Sounds awfully similar to Kings rookie Ben McLemore, who went pro after one season at Kansas and likewise showed inexperience with glimpses of potential during his rookie campaign.
"He went through the struggles of trying to learn the NBA game versus playing overseas and how physical it was," says Kings assistant coach Corliss Williamson of Stojakovic, whom he played alongside for two seasons ('98-'00). Williamson played ahead of Stojakovic at small forward, but despite his competitive nature could already recognize the rookie's tremendous potential.
When McLemore entered the league, he was also 20, but had always played at the amateur level. Stojakovic, on the other hand, had been playing professional basketball in Europe since the age of 16. Even so, Stojakovic's inaugural NBA season came after the 1998-99 NBA Lockout, which meant that his rookie season would be significantly shortened.
"It affected everyone that year, even the veterans, just the timing of things," says Williamson. "So instead of him having 82 games to develop, he only had 50 that year and did it in a short period of time. So it was tough coming in as a rookie after a lockout, during the shortened season, but as you can see, he recovered from that well."
Stojakovic steadily improved the following season before becoming a full-blown star in his third year, but a closer look at Stojakovic's rookie numbers could confuse even the most detailed of Kings observers. Why? Because his per-game averages look eerily similar to those of McLemore. Read more >>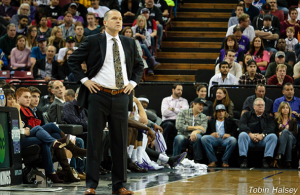 In Gregg Popovich's first season as an NBA head coach, his Spurs struggled to a 17-47 finish. Seventeen years later, he's still employed by the same franchise and has never again won less than 61 percent of his games in any given regular season. He has also won four championships.
Jerry Sloan was fired after three unimpressive seasons with the Bulls and had to wait six years before getting another crack at a head gig. Luckily for him, that second and final landing spot in Utah made his career.
But for every Gregg Popovich and Jerry Sloan, there are countless examples of head coaches who only get one opportunity. Certainly Michael Malone hopes his time leading the Kings will be a success, but the jury is still out.
A month before the season's end, the Kings were already officially eliminated from playoff contention. That can't be good. But it's no secret that in a deep Western Conference, Malone is coaching a team with an awfully inexperienced core. And this is his first season as a lead coach at the game's highest level.
Not even Malone, who spent the last 12 years as an assistant, could fully imagine the rigors of coaching in the NBA.
"I knew this was going to be a challenge," the first-year head coach admits. "but going through it is a lot harder than I anticipated." Read more >>
Ben McLemore is certainly not in Kansas anymore.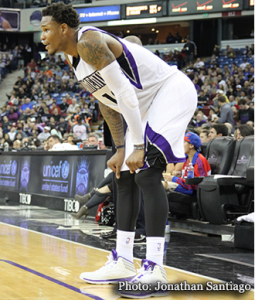 Precisely one year ago, the 20-year-old college freshman had just finished a spectacular regular-season campaign with the Kansas Jayhawks. He led the team in scoring, thanks to a sweet shooting stroke as well as an impressively athletic burst to the basket.
McLemore's Jayhawks proceeded to sweep the Big 12 Tournament and as a result, earn a No. 1 seed heading into the NCAA Tournament. For the season, the St. Louis native averaged 15.9 points per game on 49.5 percent shooting and 42.0 percent from beyond the arc. He was money.
Now in Sacramento, the 2013 seventh overall pick's shot seems to have deserted him. He shows occasional flashes as one would expect from such a high draft pick, but his play hasn't been consistent. On back-to-back nights in late-January, McLemore strung together a combined 32 points, only to follow those performances with a six-game stretch of 5.5 points per game on 32.5 percent shooting.
While McLemore's shot has regressed – at least statistically-speaking – every month from November through February, the hope remains that the promising shooting guard will rediscover what made him so successful in college. Read more >>
Reggie Evans is a player you hate to play against, but love to have if he's on your team.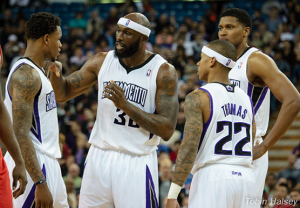 Though he's never averaged six points per game, Evans has crafted a stable niche for himself in the league. During his 12-year career, he's become known for his stellar rebounding, relentless motor and unique ability to get under opponents' skin.
"(I remember) playing against him during my career, and he always seemed to be a pest," said Kings assistant coach Corliss Williamson, whose final five seasons in the league coincided with Evans' first five.
"I hated playing against him because you know you had to work every possession, but having a chance to have him on our team and to be a part of this organization, he's the type of player that you want on there."
Evans has built his career on a reputation based around energy and effort. Playing in his first contest since being acquired at the trade deadline, Evans showed against the Houston Rockets that his approach to the game never changes, no matter the circumstances. Read more >>
Nneka and Chiney Ogwumike Are on Their Way to WNBA Stardom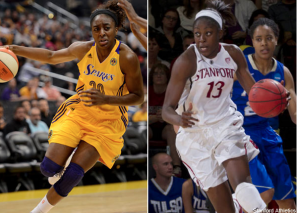 It's easy to get overlooked when playing alongside 2013 WNBA MVP Candace Parker, who has been the face of the league since she was drafted first overall in 2008 out of powerhouse Tennessee. While Nneka Ogwumike may not garner the name recognition of, say, Candace Parker, Brittney Griner or Elena Delle Donne—few do—since entering the league two seasons ago, she has undoubtedly morphed into one of its top interior players. The scary part? She may not even be the best player in her family when all is said and done.
Nneka and her younger sister, Chiney, started out as gymnasts. When they grew too tall for the sport—Nneka, 11 years old, and Chiney, 9—their mom's coworker recommended they try basketball.
Having never played basketball before, both girls were extremely raw. Nneka persevered through the awkwardness and continued practicing with the other players. Her younger sister, however, felt too embarrassed to continue. "I ran away," Chiney recalled. "I hid in the bathroom for the rest of that practice." Read more >>
Following a WNBA Title in 2012, the Indiana Fever Are Fighting Just to Make the '13 Playoffs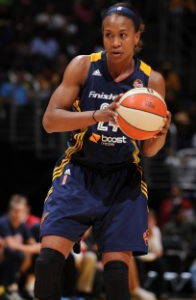 On June 14, the Indiana Fever had the honor of visiting the White House in commemoration of their WNBA title last season. They were being honored as champions—and rightfully so after their 3-1 series victory over the back-to-back Western Conference champion Minnesota Lynx in October—but weren't exactly playing like ones. As the Fever prepared to meet President Obama and his family, they came in with a 1-4 record and four straight losses, three of which came at home.
Two days later, Indiana was outplayed by the Washington Mystics in the final quarter and lost by four points. They hit rock bottom after losing two more games and falling to 1-7.
The Fever have been ravaged by injuries throughout the entire 2013 campaign. During their second game, Katie Douglas went down with a bulging disk in her back and has been sidelined ever since. To put Douglas' absence in perspective, she had been one of Indiana's top-two scorers in each of the team's previous five seasons, dating back to '08. In each season, she never missed more than three games; to date, she's missed 23 of her team's 25 games. Read more >>
BIO
Aaron Fischman is a 25-year-old sports writer and editor, who currently writes and edits for ESPN's True Hoop Network and SLAM Magazine. Previously, he wrote and edited feature stories for the ATLX Channel, a sports and fitness start-up. In May 2013, he received a master's degree in print and online journalism from USC's Annenberg School for Communication and Journalism.
Read more.