Browsing articles in "Football"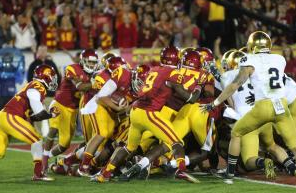 LOS ANGELES–The Coliseum's walls are awfully thin.
As Trojans coach Lane Kiffin addressed the media following his team's 22-13 loss, he could hear the Notre Dame Fighting Irish celebrating. Notre Dame had just secured a national championship bid on the Trojans' home turf.
This was supposed to be the Trojans' season. Instead, the preseason No. 1 team in the nation dropped its fifth game of the season. In a season with such high hopes, USC ultimately lost four of its last five regular-season games after beginning the year with a 6-1 record.
"It's very difficult for everyone in our locker room," said Kiffin. "For everything that hasn't happened the way we wanted this season, we hoped things could have been different today." Read more >>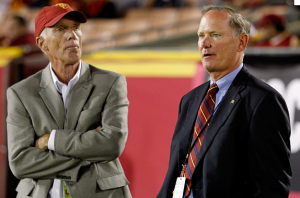 LOS ANGELES–Time is so elusive. "It feels like a hundred years ago, and it feels like two weeks ago," said J.K. McKay.
It actually has been 40 years already. McKay was a sophomore wide receiver for the undefeated 1972 Southern California Trojan football team. McKay's father, John, was the head coach, and his best friend, Pat Haden, was the second-string quarterback.
The '72 team is widely regarded as one of the best in college football history, thanks to the team's excellence on both sides of the ball. It featured 13-All Americans; 33 eventually played in the NFL. Read more >>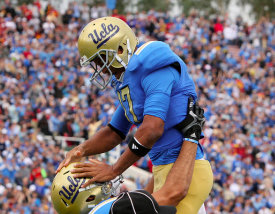 PASADENA, Calif. – The No. 21 USC Trojans fell behind 24-0 and were never able to fully recover, as they lost to the UCLA Bruins 38-28 in a game that rewarded the winning Bruins with the Pac-12 South crown.
Matt Barkley was intercepted on his very first pass attempt, giving the Bruins prime field position at the Trojans' 17-yard line. Freshman UCLA quarterback Brett Hundley quickly turned the turnover into points, as he scampered into the end zone for a 1-yard touchdown.
The Trojans failed to score in each of their first four possessions, while the Bruins scored on each of their first four drives. The Trojans' second turnover came on USC's third drive of the game, as Marqise Lee fumbled fractions of a second before his knee hit the ground.
"For us to go down like that early, obviously there was something wrong with how we had our guys ready to play," said Trojans coach Lane Kiffin. "We dug ourselves a hole, then came back out of it, but weren't able to come all the way out." Read more >>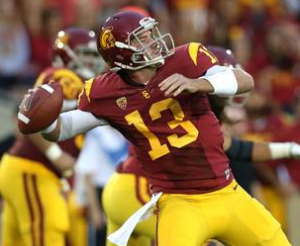 LOS ANGELES–After a junior season in which Southern California's Matt Barkley torched defenses to the tune of 3,528 yards and 39 touchdowns, the NFL was calling. But Barkley wasn't ready to leave.
Barkley's return to the Trojans kept him together with wide receivers Robert Woods and Marqise Lee.
It also meant that promising backup quarterbacks Max Wittek and Cody Kessler would have to ride the pine for another year.
Although both quarterbacks badly want to start, they're using the extra year with Barkley to further progress their games.
Wittek and Kessler got an early jump on their respective collegiate careers by graduating a semester early from high school in 2011. Early graduation is not uncommon, especially among quarterbacks looking to join their new team for spring practice. In 2009, Barkley did the same thing. Read more >>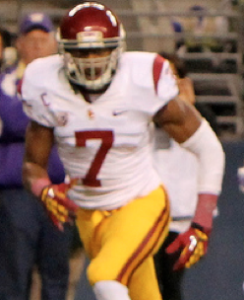 LOS ANGELES — Allan Graf started at center for the undefeated 1972 Trojan team that is still regarded as one of the best in the history of college football. Fourteen years later, safety Tim McDonald was named a consensus All-American in the final season of his brilliant Trojan career.
In the late 80s, John Katnik started two years at center, including his senior season, in which the Trojans appeared primed for a come-from-behind Rose Bowl victory until quarterback Rodney Peete fumbled a late snap and the Michigan State Spartans were able to run out the clock.
These three players are part of a rich football tradition at USC, but they also share a deeper bond. Each former Trojan has a son who plays on this year's team. Read more >>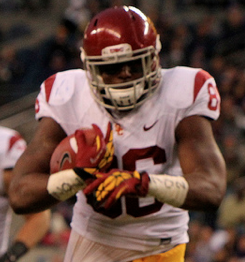 LOS ANGELES — Wide receivers attract all the attention. Virtually all USC students know Robert Woods and Marqise Lee. Even the non-football fans must have heard these players' names hundreds of times by now.
Matt Barkley is also quite familiar with them. Nineteen of the senior's 25 touchdowns have been caught by his favorite pair of wideouts. Woods and Lee account for 76 percent of Barkley's passing yards. Against Arizona last Saturday, a 39-36 USC loss, Lee broke a school and conference record with 345 receiving yards.
Like receivers, tight ends are expected to catch the ball and run for extra yardage, but oftentimes they are not targeted as pass-catchers; they're simply told to block rather than run a route. Tight ends are regularly required to do their job without getting the recognition they deserve.
Redshirt sophomore tight end Xavier Grimble is the perfect example. Only three Trojans have caught at least one pass in each of the team's eight games: Woods, Lee and Grimble. Even so, Grimble has yet to eclipse three catches in a game this season. Still, the Las Vegas native never complains about the lack of throws coming his way. Read more >>
Q&A With Oregon Writers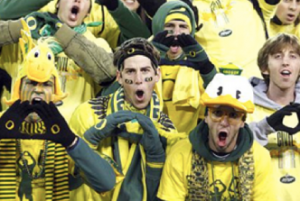 For the second time in three weeks, the USC Trojans will have a chance to upset a Top Five team.
In fact, three weeks ago, the Trojans came painfully close to upsetting the Stanford Cardinal before fumbling the game away in triple-overtime.
Last week, in a highly anticipated matchup, the Oregon Ducks accomplished precisely what the Trojans were unable to do two weeks earlier. They handed Stanford its first loss.
Stanford was plagued by dropped passes and a slippery field (that seemingly only affected the home team), but Oregon undoubtedly earned the crucial victory.
The Ducks continued their season-long ground assault with more than 200 yards to go with three touchdowns. Oregon also got to Cardinal quarterback Andrew Luck three times and was able to force five turnovers. Read more >>
Q&A With Stanford Writers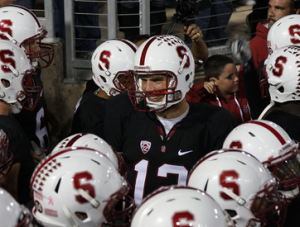 One week after posting its biggest win in the Lane Kiffin era, USC will be asked to one-up its performance against Stanford, the No. 4 team in the nation according to the latest Associated Press ranking.
The mighty Cardinal come to town with a flawless 7-0 record. In fact, they are dominating opponents, winning each game by an average of 36 points.
Most recently, the Cardinal defeated a Top 25 opponent, the Washington Huskies, by a whopping 44 points (65-21 final).
Stanford was able to contain the Huskies' impressive passing attack, holding quarterback Keith Price to just 1 touchdown–significantly less than his average of 3.5 touchdown passes per game.
For their part, the Cardinal offense really came to play, and ironically, it was not Heisman candidate quarterback Andrew Luck who did most of the damage. Read more >>
Q&A With Notre Dame Writers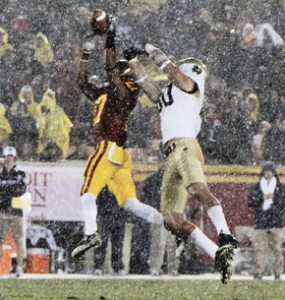 In the latest chapter of one of the greatest rivalries in college football, the USC Trojans will take on the Notre Dame Fighting Irish this Saturday in South Bend, Indiana.
Neither USC nor Notre Dame is ranked in the Top 25, but that fact has done very little to diminish the immense excitement leading up to the game.
Both teams are playing well heading into the rivalry game.
The Irish have won four straight games, including their latest victory, nearly two weeks ago, over Air Force by a score of 59-33. Sophomore quarterback Tommy Rees threw four first half touchdowns, giving his team a 42-16 halftime lead, which they would not relinquish.
Last Thursday, The Trojans defeated the Cal Golden Bears 30-9. Although Cal outgained the Trojans 329 yards to 313, USC was able to force five turnovers en route to the win. Read more >>
BIO
Aaron Fischman is a 25-year-old sports writer and editor, who currently writes and edits for ESPN's True Hoop Network and SLAM Magazine. Previously, he wrote and edited feature stories for the ATLX Channel, a sports and fitness start-up. In May 2013, he received a master's degree in print and online journalism from USC's Annenberg School for Communication and Journalism.
Read more.