Browsing articles in "Multimedia"
It's no secret that the Clippers love to run the pick-and-roll. And why shouldn't they? They boast two starting big men, Blake Griffin and DeAndre Jordan, who are both quick to the basket and explosive finishers at the rim. Just as important, if not more, seven-time All-Star point guard Chris Paul is a precision passer, with possibly the best court vision in the league. In addition, Griffin's enhanced midrange game this season gives the Clippers many more opportunities to pick and pop, effectively diversifying their screen offense and making the Clippers' offense less predictable than it has been in years past.
The Clippers actually set fewer screens than the league average at 0.98 Set Screens per Chance, but when they do, the screens tend to be highly effective. Los Angeles is leading the league in both Set Screen Points per Chance with 0.20 (league average = 0.14), as well as Set Screen Outcome Efficiency at a rate of 17.77 (league average = 13.35). Set Screen Outcome Efficiency is a Vantage Stat that measures the percentage of set screens that result in a teammate score, a missed open shot, a shooting foul, or an Assist+. It should also be noted that the Clippers boast the league's fourth-highest Solid Screen% at 76.01.
The Clippers' best screen setters are easily DeAndre Jordan, Blake Griffin, and Glen "Big Baby" Davis. In fact, these three guys are among the best in the NBA at setting picks. Read more >>
Ben McLemore is certainly not in Kansas anymore.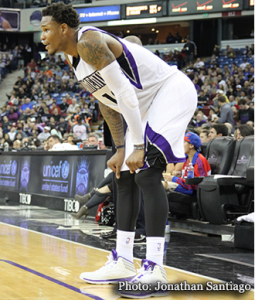 Precisely one year ago, the 20-year-old college freshman had just finished a spectacular regular-season campaign with the Kansas Jayhawks. He led the team in scoring, thanks to a sweet shooting stroke as well as an impressively athletic burst to the basket.
McLemore's Jayhawks proceeded to sweep the Big 12 Tournament and as a result, earn a No. 1 seed heading into the NCAA Tournament. For the season, the St. Louis native averaged 15.9 points per game on 49.5 percent shooting and 42.0 percent from beyond the arc. He was money.
Now in Sacramento, the 2013 seventh overall pick's shot seems to have deserted him. He shows occasional flashes as one would expect from such a high draft pick, but his play hasn't been consistent. On back-to-back nights in late-January, McLemore strung together a combined 32 points, only to follow those performances with a six-game stretch of 5.5 points per game on 32.5 percent shooting.
While McLemore's shot has regressed – at least statistically-speaking – every month from November through February, the hope remains that the promising shooting guard will rediscover what made him so successful in college. Read more >>
The accompanying text can be found here.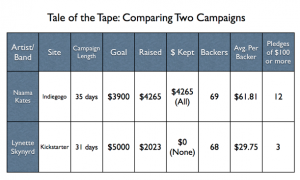 Crowdfunding refers to the "the collective effort of individuals who network and pool their resources, usually via the Internet, to support efforts initiated by other people or organizations," according to research conducted by Lucia Miceli and her associates for the Journal of Service Management.
Kickstarter, which was launched April 28, 2009, is currently the most visited crowdfunding website and has been named by Time Magazine as one of the "Best Inventions of 2010" and "Best Websites of 2011." Indiegogo is a popular alternative.
These websites allows campaigns of many different varieties, but music campaigns tend to be especially common.
Lynette Skynyrd, a four-woman group that claims to be the "world's one and only all-female Lynyrd Skynyrd tribute band," decided to launch a Kickstarter campaign in order to fund its debut album. "Lynette Skynyrd has a strong Facebook presence," said the group's lead singer, Laurie Es. "We get dozens of requests for recorded material (on there)."
Read more >>
On Jan. 15, 2008, a 22-year-old man with curly hair, a musical gift and a barista gig at Starbucks, quit his job and never looked back. More than four and a half years later, Ari Herstand continues to support himself as a full-time independent musician in Los Angeles.
The musician, who is best known for his innovative live looping technique (the technique live records, loops and layers multiple instruments on the spot), has built and maintained a wide and prominent online presence. Herstand has his own website, Youtube and Tumblr pages, a Facebook profile and fan page, an online store and that's just scratching the surface. Of course, he's on Twitter with his music available on iTunes, Rhapsody, Napster, Band Camp and Amazon.

Read more >>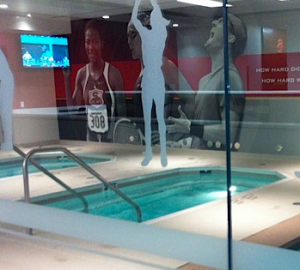 The University of Southern California's brand new $70-million, 110,000-square-foot athletic facility was unveiled to the media Sunday afternoon, and the John McKay Center certainly did not disappoint as associate senior athletic director Mark Jackson led the extensive tour.
Located directly west of Heritage Hall, the new building is a secured facility strictly designed for the use of student-athletes and USC athletics personnel. Each student-athlete has been finger- and thumb-printed, so that the front computer will recognize his/her hand and grant access to the facility.
Upon entry, one is immediately greeted by beautiful pictures of USC's student-athletes posing together on Malibu's picturesque El Matador Beach. Star quarterback Matt Barkley is shown, but so are 20 other USC student-athletes, each representing a different USC team. Although football undoubtedly reigns supreme at USC, Jackson emphasized that the facility was designed for all of the teams to enjoy and is most certainly "not a football building." Read more >>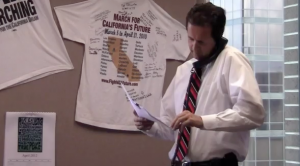 When one searches "Aloria Magee" on Google, the second result is an LA Times page showing Magee's "Los Angeles Teacher Ratings."
The page says nothing about Magee's teaching style, nor her intense passion for the profession. But two large graphs appear, showing Magee's "Math effectiveness" and "English effectiveness."
Magee's Math and English scores are both listed as below average, but a funny thing happens when the reader clicks on "See how this teacher would change under different statistical formulas." Suddenly, Magee's English score jumps to well above average when Model 1 is employed (one of four models shown on the graph).
Virtually no one except the LA Times wanted these scores released, including the superintendent, teachers, the teacher's union and countless other stakeholders in education. Not only would it be a potential embarrassment to teachers and the district, but there was no guarantee that the scores would be reliable.
The Los Angeles Unified School District is now using a different, but similar type of model. AGT is a type of value-added model that aims to measure a teachers' effectiveness, while controlling for various factors, such as socio-economic factors and starting student ability, factors that could otherwise compromise the results.
Although the initiative is still in its pilot phase, slightly more than half of the district's teachers currently receive their scores every year, according to LAUSD's Director of Performance Management, Noah Bookman.
The district is working with the University of Wisconsin, to develop their measures for AGT. The school received a $2 million grant to help the district craft a formula for teacher effectiveness.
"Academic Growth Over Time is a measure of how a teacher or a school contributes to student outcomes," explained Bookman. "Different how from how we usually measure student outcomes, which is we measure how kids do against a specific standard like the percent of students who are proficient, Academic Growth Over Time allows us to compare teachers or schools to another in terms of how they do in taking students from Point A to Point B." Read more >>
On March 30 in the city of Glendale, children were painting murals in the name of water conservation. I had to be there.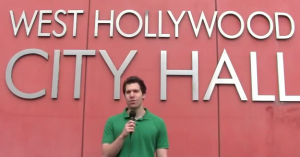 Upon first glance, the term "West Hollywood Republican" may appear to be an enigma or even an oxymoron, but although they are significantly outnumbered, Republicans do live in the city and not all of them are hiding that fact.
Brad Torgan, an environmental lawyer and Republican resident of West Hollywood estimated the city's Republican registration to be about 12 percent. "It can get pretty lonely sometimes," said Torgan.
Scott Schmidt, a 10-year resident of West Hollywood, also knows the feeling.
"I believe in conservative values like limited government, fundamental freedoms, personal responsibility and on the large majority of issues, that leads me to agree with the Republican Party," said Schmidt. "That makes it a little difficult in a town like West Hollywood, because we're about 11 percent of the voters here, so there aren't too many people like us in the city."
In the 28 years since the city was incorporated, a Republican has never won a seat on the West Hollywood City Council although a former Republican has been elected.
Both Torgan and Schmidt are gay Republicans. Like Torgan and Schmidt, Dan Blatt, a blogger for GayPatriot.net, is a gay Republican who resides in West Hollywood. Read more >>
BIO
Aaron Fischman is a 25-year-old sports writer and editor, who currently writes and edits for ESPN's True Hoop Network and SLAM Magazine. Previously, he wrote and edited feature stories for the ATLX Channel, a sports and fitness start-up. In May 2013, he received a master's degree in print and online journalism from USC's Annenberg School for Communication and Journalism.
Read more.