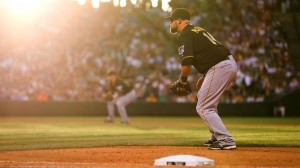 As Casey McGehee walks to the plate, Rakuten Golden Eagles fans begin a personalized chant for their beloved third baseman. They are waving signs depicting McGehee's likeness, holding up three fingers for his uniform number and letting their voices be heard. "Ganbatte," Japanese for "do your best," and "Casey McGehee" are the only terms he recognizes as he steps into the box.
Japan isn't exactly the place major league baseball players go to resurrect their careers. Ask a number of former major leaguers who excelled in Japan but could never manage to make it back. Take Matt Murton, for example, who played for the Cubs and a few others teams between 2005 and 2009. Playing for the Hanshin Tigers in 2010, Murton broke Ichiro Suzuki's single-season hit record and has batted better than .310 in four the past five seasons, yet he remains in Japan.
Andruw Jones played in the majors for 17 years and was a five-time All-Star. To date, he, too, has not been able to recapture his spot in the league.
McGehee, however, turned in an excellent 2013 season with the Golden Eagles, effectively playing his way back into the big leagues. He followed it up with a successful 2014 campaign with the Miami Marlins and now heads into 2015 as Pablo Sandoval's replacement at third base with the San Francisco Giants. Just 32, McGehee may still have a handful of productive years as a starting third baseman in his future.
"Obviously, McGehee showed last season he could do that (contribute) in his return from Japan," Ray Flowers, a Fantasy Baseball host on Sirius Satellite Radio told OZY. "I think that the Giants certainly would hope he'd hit more than a handful of home runs, but if he could replicate the batting average, on-base percentage and the RBI total of last season, I'm sure they'd be really happy with that level of production." He will also have plenty of opportunities to drive in runs in the middle of the Giants lineup, according to Flowers.
A few years ago, McGehee couldn't have expected to be where he is now. After a career-best 2010, in which the Santa Cruz, Calif., native drove in 104 runs for the Brewers, he started to decline rapidly the following season. In 2011, McGehee's slugging percentage dropped 118 points and his batting average dwindled to .223. By the subsequent season, he was contributing so little that the Pirates shipped him midseason to the Yankees, where he played even worse. His major-league career was on life support.
While in Nashville, at baseball's Winter Meetings that offseason, McGehee ran into an old friend who was scouting for Rakuten. McGehee hinted that he may be interested in going to Japan at some point down the road, but, at just 30 years old, he certainly wasn't thinking next season. By the time he and his wife, Sarah, got home, he had a voicemail saying that executives from a team in Japan wanted to meet him. The process took three weeks, where McGehee had to decide between two Japanese teams and a big-league deal that would not have guaranteed an everyday starting spot.
"That wasn't something that necessarily appealed to me, 'cause I felt like when I was young enough and still physically able to, I wanted to play every day," said McGehee. With the Japanese teams, Rakuten and the Yomiuri Giants, on the other hand, he would be a starter.
"Once I finally wrapped my head around the idea of walking away from the big leagues and being OK with the fact that I was realistically probably not coming back," said McGehee, "then it just came down to what organization I felt like was gonna be the best fit for me."
McGehee chose Rakuten, in large part, because the team had just added Andruw Jones, whom he had played with on the Yankees for a few months. In addition, the longtime Braves center fielder, who debuted at 19 years old, was someone whom he idolized as a teenager.
According to McGehee, it was not even a thought that he would be leaving his wife and two kids in the States. "It was really a no-brainer for us," said McGehee. "More than anything, I think it just had to do with the fact that we want to make sure that we get to enjoy our kids while they're little." At the time, his son, Mack, who suffers from cerebral palsy, was 5 years old, and his daughter, Cooper, was 3.
Getting treatment for Mack, while in Japan, was certainly a challenge. Although McGehee contends that the hospital and its staff were "great" and "willing and able to do whatever he needed," the language barrier and the hospital's distance from the McGehee residence made regular treatment impractical. McGehee and his teammates were able to donate wheelchairs to hospitalized children, raise additional money and even bring some of the kids to games that summer. Such philanthropy was one of the "highlights" of McGehee's stint in Japan, he said.
On and off the field, Jones and McGehee grew close, because they were the only American hitters on the team. Though there was a translator at their disposal, it was often much easier for the two to communicate. They helped each other read Japanese pitchers, as well as with adjusting to off-the-field cultural norms.
"Where else are you going to get a chance with any teammate, but especially somebody like that, to basically spend six, seven, eight months where it's kind of just you and him?" McGehee rhetorically asked. "And at first, it's almost like you're forced to spend all this time together, but by the end of it you end up being pretty good friends. I was able to trust him."
While in Japan, McGehee had the thrill of winning his first championship since A-ball. He also got to watch firsthand current New York Yankees ace Masahiro Tanaka's final season in Japan. The right-hander recorded a perfect 24-0 record and saved the championship-clinching Game 7 one day after throwing 160 pitches in a Game 6 loss. McGehee had never seen anything like it.
Above all, the Japanese experience boosted McGehee's mental approach. "I think the biggest thing was I think I got my confidence back," he concluded.
Kaz Nagatsuka, a sports writer for The Japan Times, says McGehee may also have learned from Japanese baseball's emphasis on making solid contact over routinely going for home runs. He also noted that playing in quiet Sendai, away from the critical media eye he labored under with the Yankees, may have given McGehee a pressure-free zone to get back in the game.
Leaving the major leagues and being fortunate enough to return has made the veteran third baseman no longer take his career for granted: "I think I just got a whole new appreciation for not only how hard it is to get to the big leagues, but how hard it is to stay there and how much you have to continue to work to try to improve yourself."
"The first hit I got coming back almost felt like my first hit ever in the big leagues," he recalled.
Another exhilarating moment for McGehee during the 2014 season was his game-winning home run in the top of the 9th in Milwaukee against his former team. The two-run long ball off Francisco Rodriguez came on Sept. 9, when the Marlins were still in the thick of the wild-card race despite low preseason expectations. Two days later, Marlins stars Giancarlo Stanton got hit in the face with a pitch and the season was lost. Throughout that year, McGehee did his best to ensure that opposing pitchers didn't pitch around the dangerous Stanton by batting .319 with men in scoring position.
In an offseason move, the hometown Giants acquired McGehee, who brings his newfound confidence to the City by the Bay. Even so, just a year removed from his MLB exile, McGehee still has his skeptics who raise reasonable concerns.
Flowers conceded that expectations won't be that high for McGehee, given that the Giants hadn't gotten much production from Sandoval over the last couple seasons anyway. His biggest worries about McGehee going into the season involve his lack of home-run power and a precipitous post-All-Star break decline last year (McGehee batted just .243 after the All-Star break with the Marlins).
"The thing with McGehee is he, the last three seasons at the big-league level, has stopped hitting the ball in the air," said Flowers. "That's horrible if you're trying to be a run producer. He also hasn't had a league-average line-drive rate since 2009."
"The upside for McGehee is what happened last year; the downside is a .230 season with 50 RBIs."
Dwindling power aside, McGehee is grateful to be back in the league: "No matter what happens from here on out, when it's all said and done, I think I'll be able to look back and be proud of what I've been able to accomplish."
But don't mistake his perspective for a lack of competitive drive. As a member of the Giants, who have won three of the past five World Series, McGehee told OZY, "I want to win another World Series for the Giants."
A condensed version of this story was originally published by Ozy.com
1 Comment
BIO
Aaron Fischman is a 25-year-old sports writer and editor, who currently writes and edits for ESPN's True Hoop Network and SLAM Magazine. Previously, he wrote and edited feature stories for the ATLX Channel, a sports and fitness start-up. In May 2013, he received a master's degree in print and online journalism from USC's Annenberg School for Communication and Journalism.
Read more.