Aaron Fischman is a sports reporter and editor from Los Angeles, Calif.
Casey McGehee Ressurects His Baseball Career in Japan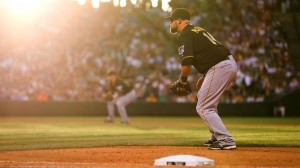 As Casey McGehee walks to the plate, Rakuten Golden Eagles fans begin a personalized chant for their beloved third baseman. They are waving signs depicting McGehee's likeness, holding up three fingers for his uniform number and letting their voices be heard. "Ganbatte," Japanese for "do your best," and "Casey McGehee" are the only terms he recognizes as he steps into the box.
Japan isn't exactly the place major league baseball players go to resurrect their careers. Ask a number of former major leaguers who excelled in Japan but could never manage to make it back. Take Matt Murton, for example, who played for the Cubs and a few others teams between 2005 and 2009. Playing for the Hanshin Tigers in 2010, Murton broke Ichiro Suzuki's single-season hit record and has batted better than .310 in four the past five seasons, yet he remains in Japan.
Andruw Jones played in the majors for 17 years and was a five-time All-Star. To date, he, too, has not been able to recapture his spot in the league.
McGehee, however, turned in an excellent 2013 season with the Golden Eagles, effectively playing his way back into the big leagues. He followed it up with a successful 2014 campaign with the Miami Marlins and now heads into 2015 as Pablo Sandoval's replacement at third base with the San Francisco Giants. Just 32, McGehee may still have a handful of productive years as a starting third baseman in his future.
"Obviously, McGehee showed last season he could do that (contribute) in his return from Japan," Ray Flowers, a Fantasy Baseball host on Sirius Satellite Radio told OZY. "I think that the Giants certainly would hope he'd hit more than a handful of home runs, but if he could replicate the batting average, on-base percentage and the RBI total of last season, I'm sure they'd be really happy with that level of production." He will also have plenty of opportunities to drive in runs in the middle of the Giants lineup, according to Flowers.
A few years ago, McGehee couldn't have expected to be where he is now. After a career-best 2010, in which the Santa Cruz, Calif., native drove in 104 runs for the Brewers, he started to decline rapidly the following season. In 2011, McGehee's slugging percentage dropped 118 points and his batting average dwindled to .223. By the subsequent season, he was contributing so little that the Pirates shipped him midseason to the Yankees, where he played even worse. His major-league career was on life support.
Read more »
Donny Robinson's Dire Dilemma: Concussions Threaten BMX Racer's Career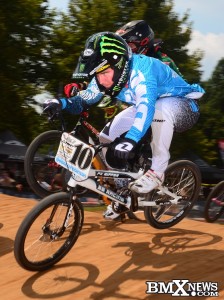 Donny Robinson has been racing BMX for 24 years and has suffered, by his estimation, at least 25 concussions over that span. That's nearly one concussion for each of the thirty years he's been alive.
"Part of BMX racing is the crashing," Robinson told ATLX. "We try not to do it, but ultimately it's going to happen because it's a contact sport."
At 6 years old, Robinson began racing. In that initial year, he suffered his first concussion, which he describes as a "full knockout." He recalls riding around a parking lot without a helmet that day.
Early on, Donny quickly became known for three things. "I would be the smallest guy out there, I'd be the smallest guy trying to jump the big jumps, and I had some pretty gnarly crashes, as well."
And he's still the smallest guy out there as a pro, measuring in around 5-foot-4 and 150 pounds.
As a teenager, as Robinson accumulated more and more BMX experience and his talent began to coalesce, the hits started coming fast and furiously. It was between the ages of 14 and 17 that he distinctly remembers "crashing a ton."
There was far less awareness surrounding concussions and head trauma circa 2000, however. Pediatricians and whomever else Robinson was sent to see would tell him that it's probably not a good thing to keep hitting his head, but he was offered neither any concrete evidence nor potential consequences should it continue to happen.
Robinson would have headaches, sure, but no symptoms that he felt needed to be taken seriously. He saw himself as one of the lucky ones, only having broken a couple bones his entire life.
There was a running joke between dad and son that as long as Donny landed on his head, he would turn out to be all right. It was when he stuck an arm out to break his fall that he broke a thumb or wrist.
Father and son could not have been more wrong, and that has become increasingly clear to Robinson over the last three years, as public consciousness and his personal awareness have evolved considerably on the issue of concussions.
Read more »
A Family Motto: Stevie Thompson Practices Balance on the Court
It was one of those games.
Shot after shot glanced off the rim. Even his signature move — the ever-reliable, sweeping left-handed layup — betrayed him.
But Stevie Thompson, though still in high school, is a veteran of tough games against talented opponents.
Held to six points in the first half in a recent game against a lineup that included a highly regarded junior guard, a 6-foot-11 center headed to Arizona State, and another player whose next stop will be UCLA, the wiry 6-4 guard never showed a hint of frustration.
Remaining confident and composed, Thompson exploded for 19 points in the final two quarters — and made seven of eight free throws in crunch time — as Torrance Bishop Montgomery High kept its record the next-best thing to perfect with a seven-point victory.
"I don't try to get too high or too low," Thompson explained afterward. "Try to keep it in the middle. When you're playing bad, staying even-keel keeps you calm and collected."
Stevie's voice, his father's mantra.
If the name sounds familiar, it's because Stephen Thompson Jr.'s father, also known as Stevie, was a catalyst on a couple of Los Angeles' best high school teams — units guided by legendary Crenshaw Coach Willie West in the 1980s. The Cougars won two state championships with Thompson Sr. in the lineup, before he went on to star at Syracuse and enjoy a professional career in the NBA and overseas.
"When things are going great," Thompson Sr. tells his boys, Stevie and Ethan, a sophomore who starts alongside his older brother, "you don't want to be over-the-top overjoyed. And when things are not going so great, you don't want to be too down on yourself or too low."
His sons know it as the "next shot, next shot," mentality. And it has proved to be good advice from a father who speaks from experience — and also as a coach.
Thompson Sr. was the head basketball coach at Cal State Los Angeles for nine seasons before moving to Oregon State last year as an assistant.
Read more »